Products & Services
JP Products is a custom injection molding company certified in ISO 9001:2000 and QS 9000 with excellent growth records servicing the automotive industry with plastic components and assemblies.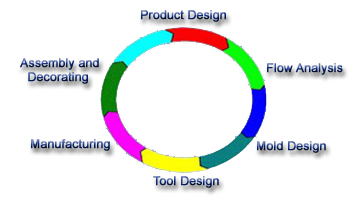 We have recently moved to a new 93,000 square foot, state-of-the-art facility to accommodate our rapid growth. We have in-house capabilities of product design, analysis, mold design, tool design manufacturing, injection molding, decorating and assembly. We utilize technical design software such as Pro/Engineer, C-MOLD, and TracePro.

JP Products received the KANTUS Supplier of the Year Award for 1999. This goes along with the many awards that have been received by JP Products from the automotive industry for outstanding performance.