Engineering
Consider our engineers as an extension of your own staff. With degrees in Plastics Engineering Technology, Mechanical Engineering, and Materials Science, they possess the knowledge and skills to help you reduce manufacturing costs.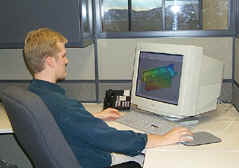 When time is critical you can call on our engineering staff to use the most modern techniques to speed a part to your production line. We use 3D solid modeling software (Pro/Engineer) to fully develop part and tool designs to your specifications.
To avoid costly production delays and help diagnose design and/or processing problems, we use Flow Analysis Software (CMOLD). IT enables us to verify and troubleshoot part designs for optimal mold filling and cosmetic appearance.
With our innovation, experience, and technology, we can solve your tooling needs. Our design teams include tool makers, molders, and engineers that use our completely integrated software to create or modify any tool design.